Chicken Flavor Soup Base – Organic
Product Code: CH-905 Non-GMO
Organic and Non-GMO chicken soup base that delivers consistent rich chicken flavor to your recipes. The easy-to-use granular format dissolves quickly in water for a chicken stock that tastes the same every time it's made - no matter who makes it. The ingredients in this clean label organic chicken soup base meet the strictest criteria of No No Lists for companies such as Whole Foods and Panera Bread.
Attributes
Organic
Non-GMO
0g Trans Fat
730 mg Sodium per Serving
Granular
Clean Label
No MSG
No Big 9 Allergens
Gluten Free
---
Ingredients
Sea Salt, Organic Raw Cane Sugar, Organic Onion, Organic Chicken Fat, Organic Dextrose, Organic Potato, Organic Garlic, Organic Chicken Stock, Organic Spice, Organic Rice Concentrate, Organic Turmeric.
---
Big 9 Allergens
Contains: No Big 9 Allergens
Does Not Contain:  Soy, Fish, Tree Nuts, Crustacean Shellfish, Wheat, Eggs, Peanuts, Milk, Sesame
Storage Recommendations
Cook's Delight® Organic Chicken Flavor Soup Base is shelf-stable and does not require refrigeration. This product can be kept at room temperature. The shelf-life of unopened containers is:
Recipe Ideas Using Cook's Delight® Organic Chicken Flavor Soup Base
Tarragon Chicken Easy Foodservice Recipe
Egg Drop Soup Recipe Recipe
Pack Size and Yield for Cook's Delight® Organic Chicken Flavor Soup Base
| | | | | | |
| --- | --- | --- | --- | --- | --- |
| Pack Size | Net Weight | Gross Weight | Unit Yield | Case Yield | Servings per Case |
| 1/40 lb | 40 lbs | 42.50 lbs | 226 gal | 226 gal | 3629 |
You Might Also Like These Bases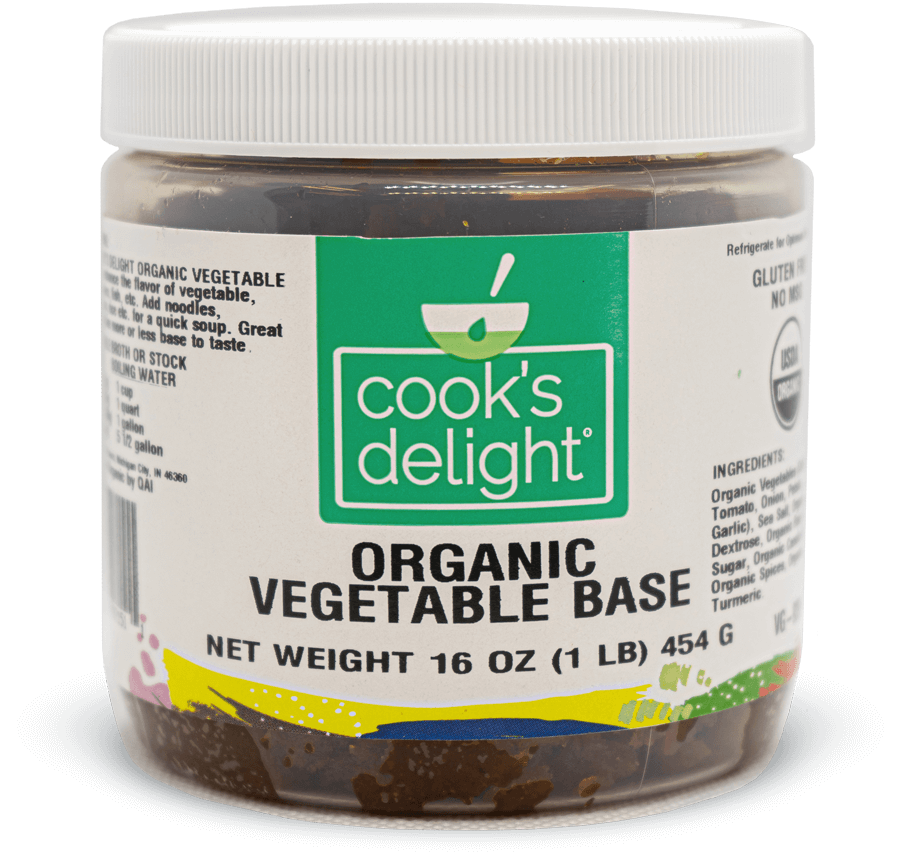 Organic Vegetable Soup Base
Non-GMO products made with the highest quality of care and the strictest standards. When we say organic, we mean it.
Simply Mushroom Flavor Concentrate
Cook's Delight® Simply Soup Base™ clean label products are the cleanest you'll find and cover free-from claims.
Classic Au Jus Base
The original recipe. Cost-effective and incredibly-flavorful. The classic perfect for large-scale enterprises and kitchens.
More About This Non-GMO Certified Organic Chicken Flavor Soup Base
This particular Organic Chicken Flavor Soup Base adds real roasted chicken flavor to your next soup recipe. It is easy to make soup broth or soup stock with our organic chicken soup base.  Just add water for a consistent, predictable flavor profile, no matter who makes the stock or broth! Foodservice cooking can be a challenge, but with a delicious chicken base like this one, your next dish will be a breeze. Make chicken stock or chicken broth by adding water to this granular base.  Plus, this is also a Non-GMO, organic and gluten-free soup base, too! Cook's Delight® Organic Chicken Flavor Soup Base is approved for export to Canada.
Soup base is not just for soup!  Use soup base in any recipe calling for soup stock or broth.