Lobster Soup Base – Simply
Cook's Delight® Simply Lobster Soup Base is made with premium lobster meat as the main ingredient. The ultra clean ingredient statement for this soup base is made up of ingredients that will comply with the most stringent of product and No No List menu restrictions.
Attributes
Clean Label
Gluten Free
0g Trans Fat
No MSG
Paste
640 mg Sodium per Serving
---
Ingredients
Cooked Lobster Meat, Salt, Organic Raw Cane Sugar, Tomatoes, Butter (Pasteurized Cream (Milk), Salt), Dried Whey (Milk), Tomato Powder, Natural Flavoring, Citric Acid.
---
Allergens
Milk, Crustacean
Storage Recommendations
Cook's Delight® lobster soup base is shelf-stable.  Refrigerate for optimum flavor and to retain best quality.
The shelf-life of unopened containers is:
6 months refrigerated storage
12 months frozen storage
Recipe Ideas Using Lobster Soup Base
Vodka Shrimp Poutine Recipe
Pack Size and Yield for Cook's Delight® Simply Lobster Soup Base
| | | | | | |
| --- | --- | --- | --- | --- | --- |
| Pack Size | Net Weight | Gross Weight | Unit Yield | Case Yield | Servings per Case |
| 1/50 lb | 50 lbs | 52.50 lbs | 283 gal | 283 gal | 4536 |
More About This Lobster Soup Base
Lobster Soup Stock Base adds pure lobster flavor to your next recipe. The main ingredient is real lobster combined with a special blend of spices that give it a robust lobster flavor without added MSG or other flavor enhancers. It's made with ingredients you recognize!  Just add boiling water for easy to make lobster soup broth or lobster soup stock.  Consistent, predictable flavor profile, no matter who makes the stock or broth!  Plus, this is also a No MSG and gluten free soup base, too!  Industrial processors like the clean label of Cook's Delight® Simply Lobster Soup Base that meets the strict criteria for most No No Lists.
Soup base is not just for soup!  Use soup base in any recipe calling for soup stock or broth.
You Might Also Like These Bases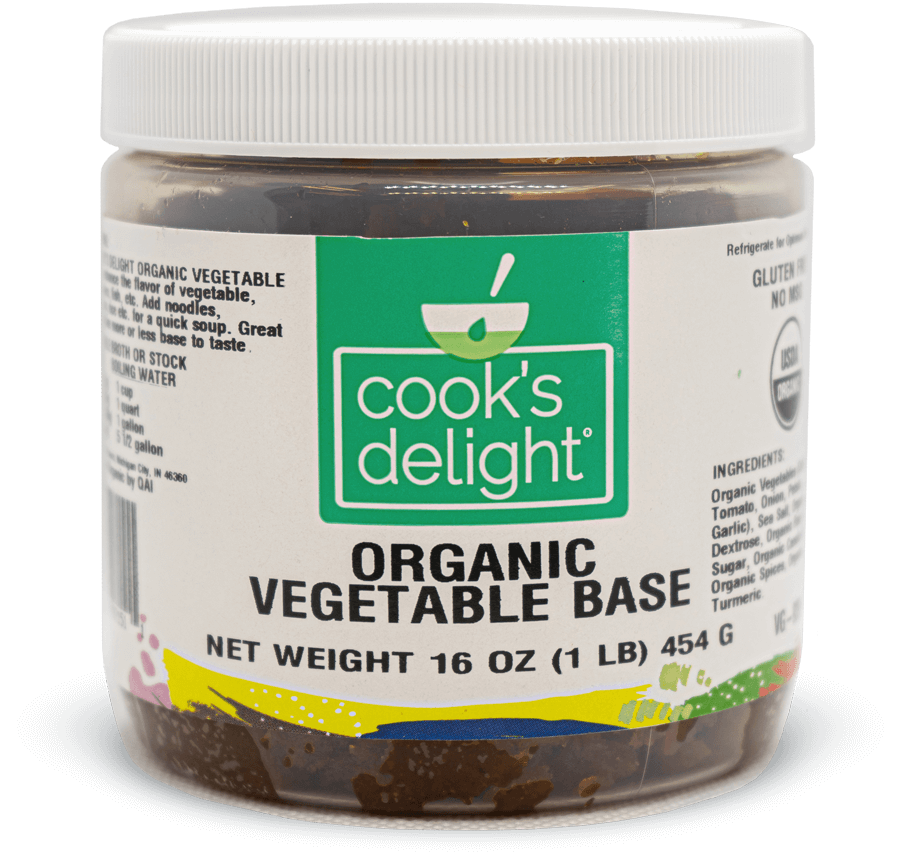 Organic Vegetable Soup Base
Non-GMO products made with the highest quality of care and the strictest standards. When we say organic, we mean it.
Supreme Shrimp Soup Base
Cook's Delight® Supreme Soup Base clean label products are the cleanest you'll find and cover free-from claims.
Classic Demi-Glace Sauce Concentrate
The original recipe. Cost-effective and incredibly-flavorful. The classic perfect for large-scale enterprises and kitchens.