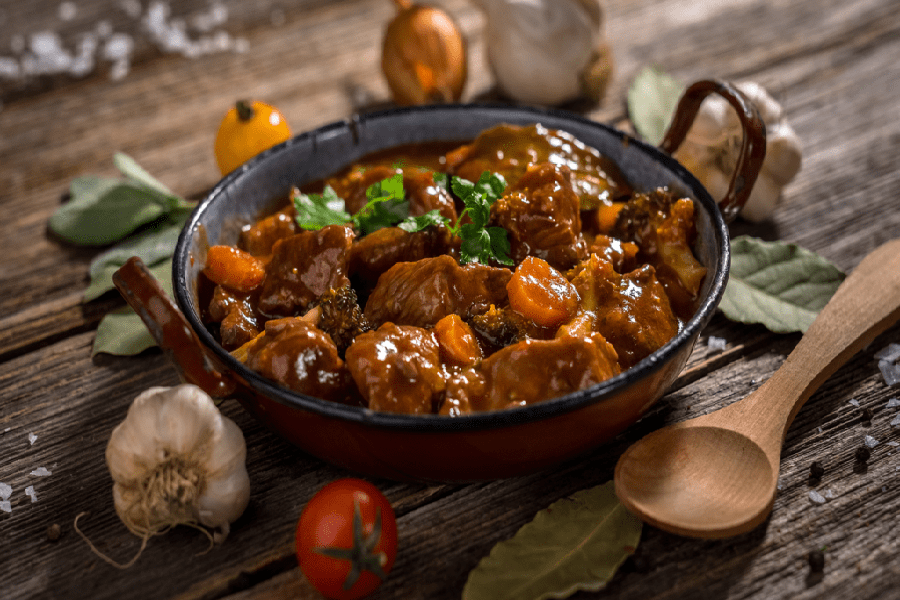 Beef Stew with Farro Recipe
Recipe
| | | | |
| --- | --- | --- | --- |
| Servings: | For: | This Recipe Is: | Featuring: |
| 10 | Dinner | Low Gluten | Cook's Delight® Organic Beef Stock BF-912 & Cook's Delight® Simply Vegan Vegetable Base VG-837 |
Ingredients
5 lbs Chuck Roast - cubed
2 fennel bulbs - thinly sliced
3 large turnips - peeled and cut into ½" cubes
4-5 large carrots - chopped
2 sweet onions - medium dice
1-1/2 cup peas
1 cup chopped parsley
Fresh sage rosemary and thyme - tied in a bunch
1-1/2 quarts Cook's Delight® Organic Beef Stock (mix 7.5 tsp Cook's Delight® Organic Beef soup base with 1 1/2 quarts boiling water)
1 quart Cook's Delight® Organic Vegetable Stock (mix 3 tsp Cook's Delight® Organic Vegetable soup base with 1 quart boiling water)
1 750 ml bottle of red wine
1 cup Farro
¼ cup olive oil
½ cup tomato paste
½ cup flour
2 Tbsp sugar
Cook's Delight® Organic Beef Flavor Base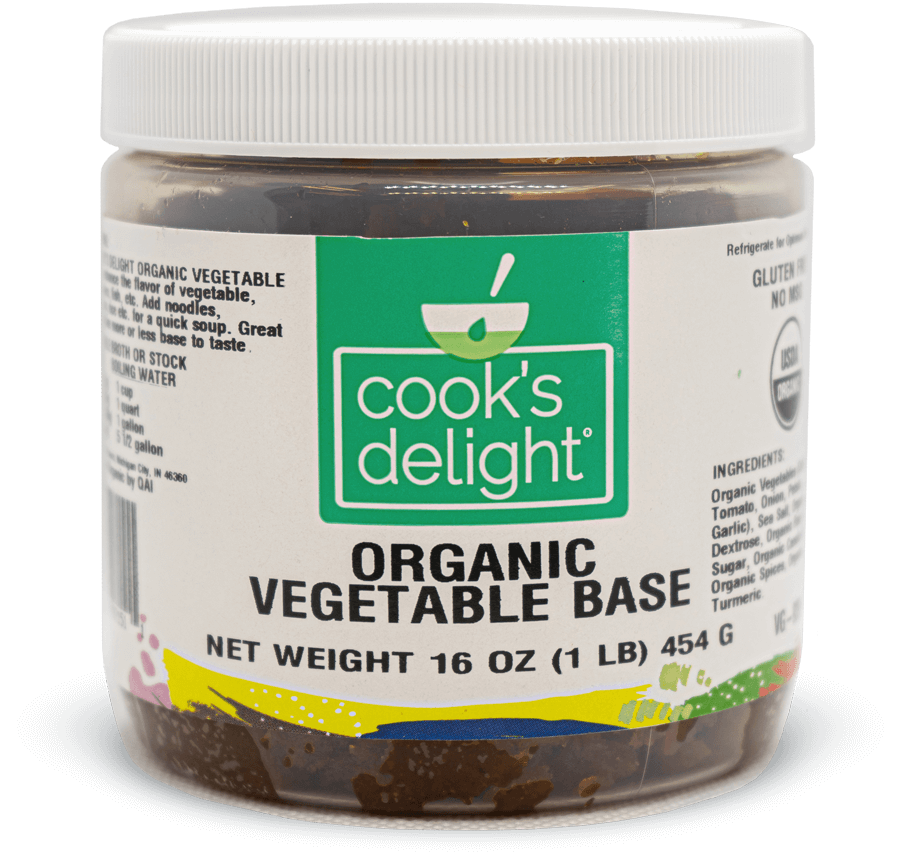 Cook's Delight® Organic Vegetable Soup Base
Step 1
In a large dutch oven, sauté the fennel and onion in olive oil until translucent.
---
Step 2
Season the cubed beef with salt and pepper and coat in the flour and sugar. Sear in batches in a hot skillet and transfer to the dutch oven.
---
Step 3
Prepare the beef stock with boiling water and use to deglaze the skillet before adding to the dutch oven.
---
Step 4
Add the turnips, carrots, wine, tomato paste and herb bunch and bake for 1-1/2 hours at 350 degrees in a preheated oven.
---
Step 5
Add the peas and parsley 15 minutes before finished.
---
Step 6
In a separate pot, bring the vegetable stock to a boil and cook the farro until tender. The adds another layer of flavor and preserves the beef broth that would otherwise be absorbed by the grain.
---
Step 7
Add the farro to the pot and serve!