Easy Lentil Soup Recipe
Recipe
| | | | |
| --- | --- | --- | --- |
| Servings: | For: | This Recipe Is: | Featuring: |
| 6 | Lunch | Gluten Free if specialty pasta is used | Cook's Delight® Organic Vegetable Base VG-939 |
Ingredients
2 tbsp olive oil
2 medium carrots - peeled and chopped
2 celery stalks - chopped
1 medium onion - chopped
2 cloves garlic - minced
pepper to taste
1 can tomatoes - diced (14 1/2 oz.)
1 package lentils (16 oz.)
10 tsp Cook's Delight® Vegetable Base
11 cups water
5 sprigs thyme - fresh
2/3 cups dried pasta (such as bow-tie - elbow - rotini)
1 cup parmesan - fresh shredded (optional)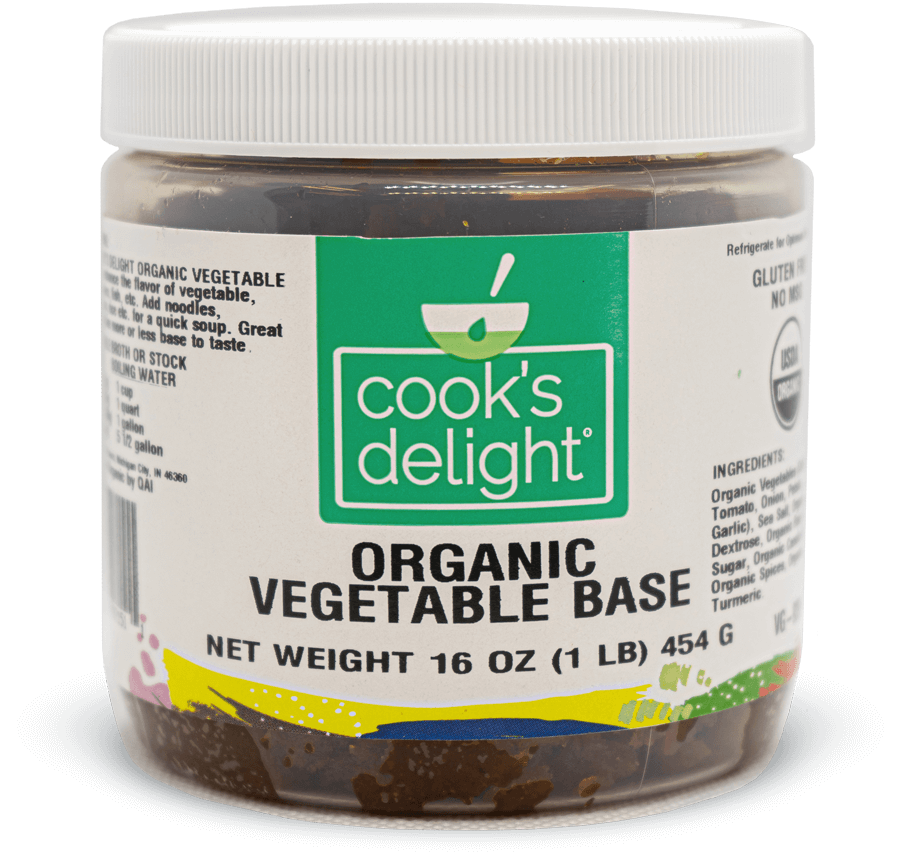 Cook's Delight® Organic Vegetable Soup Base
Cook's Delight® Roasted Garlic Flavor Concentrate
Step 1
Heat oil in a large pot over medium-high heat. Add carrot, celery, onion and garlic and sauté for 5 minutes or until vegetables are tender. Add pepper and tomatoes with juices. Simmer and stir occasionally until tomatoes are incorporated about 7-8 minutes. Stir in lentils.
---
Step 2
Add Cook's Delight® Vegetable Base, water and thyme. Stir occasionally and bring to a boil. Reduce heat to low and simmer, covered, for about 25 minutes, until lentils are almost tender.
---
Step 3
Add the pasta and simmer until pasta is al dente (tender but not mushy).
---
Step 4
Serve with parmesan cheese, optional.