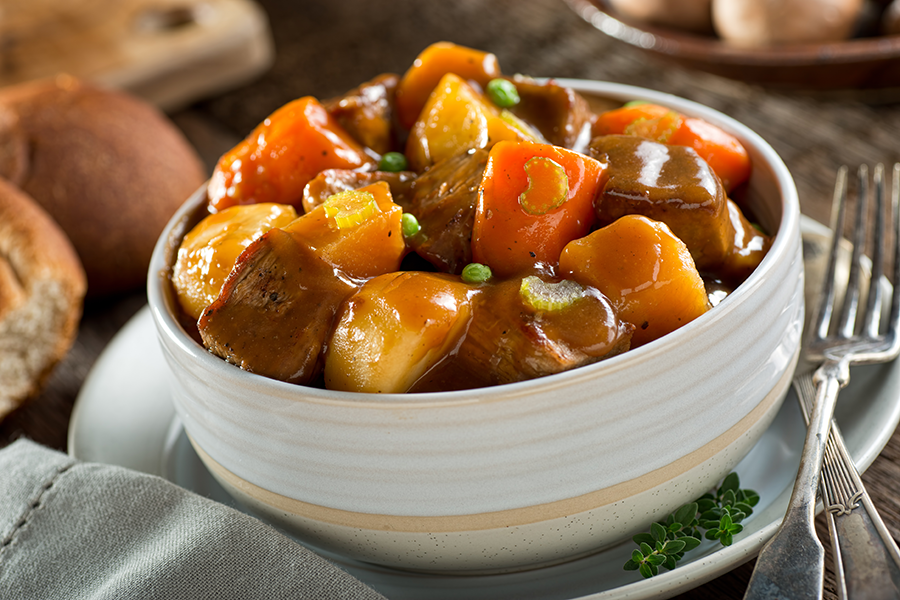 Irish Beef Stew Recipe
Recipe
| | | | |
| --- | --- | --- | --- |
| Servings: | For: | This Recipe Is: | Featuring: |
| 4 | DInner | Gluten Free if flour is excluded | Cook's Delight® Simply Beef Soup Base BF-823 |
Ingredients
1 1/2 pound boneless beef cut in 1 1/2 inch pieces
4 tbsp flour
1 peeled clove garlic - minced
3 tbsps fat or salad oil
1 cup minced onions
3 cups boiling water
1 bay leaf
2 tbsp Cook's Delight® Beef Soup Base
1/2 tsp celery seed
8 pared small carrots
4 pared small white potatoes
1/2 pound string beans
1/4 cup minced parsley
Cook's Delight® Simply Beef Base
Cook's Delight® Supreme Beef Soup Base
Step 1
1. Roll meat in flour. Cook garlic in oil in a deep kettle for 2 minutes. Add meat and brown.
---
Step 2
2. Add onions, and cook for 4 minutes while stirring. Remove meat; add 1 tbsp oil and brown 2 tbsp flour in it.
---
Step 3
3. Stir in boiling water and cook until thickened. Add 2 tbsp Cook's Delight® Beef Soup Base, meat, bay leaf, and celery seed. Cover and simmer for 2 hours.
---
Step 4
4. Add carrots, potatoes, and beans cut crosswise. Cover, simmer tender – about 20-30 minutes. Add parsley.