Roasted Poblano Chicken Soup Recipe
Recipe
| | | | |
| --- | --- | --- | --- |
| Servings: | Good For: | This Recipe Is: | Featuring: |
| 4-6 | Dinner | Gluten Free | Cook's Delight® Chicken Base made with Organic Chicken Meat and Broth CH-1004 |
Ingredients
6 poblano peppers (roasted - peeled and diced)
8 tomatillos - roasted
1 large sweet onion
4 ears sweet corn
6 medium cloves of garlic
1 cup of chopped cilantro
2 quarts of Cook's Delight® Organic Chicken Stock (combine 8 tsp Cook's Delight® Organic Chicken Soup Base with 2 quarts of boiling water)
2 large grilled chicken breasts (grill ahead of time and set aside)
2 limes
1 tbsp cumin
salt & pepper to taste
red chili paste optional
Cook's Delight® Chicken Base made with Organic Meat and Broth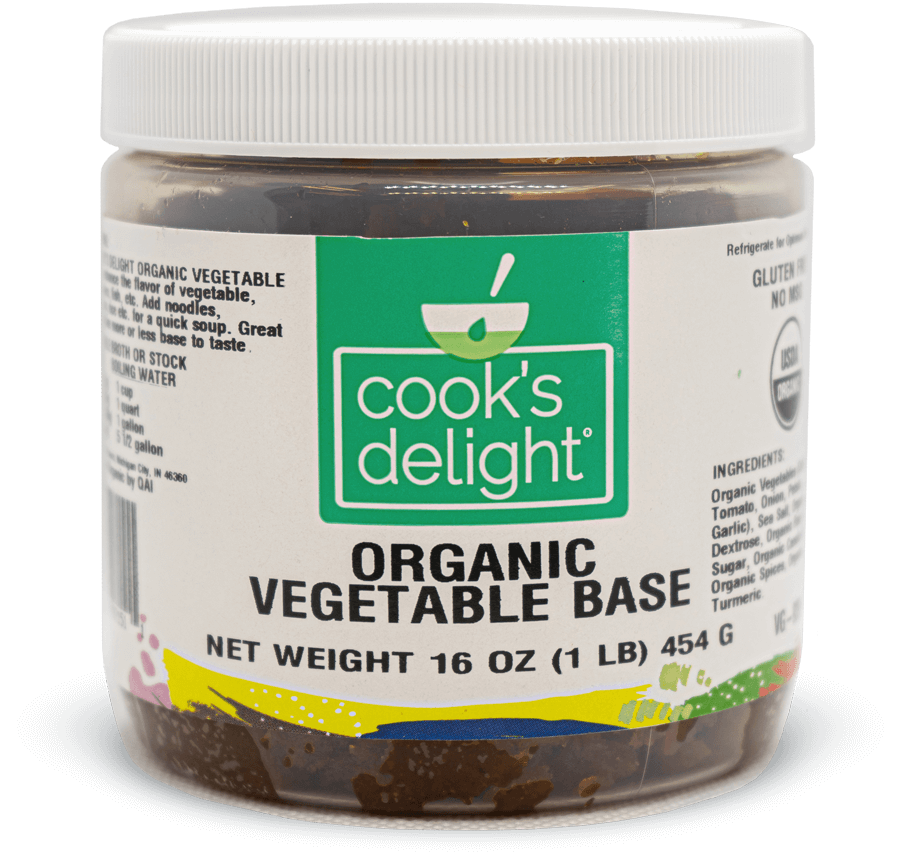 Cook's Delight® Organic Vegetable Soup Base
Step 1
Bring 2 quarts of Cook's Delight® Organic Chicken Stock to a rolling boil in a large stockpot and reduce to simmer.
---
Step 2
Place poblano peppers on a foil lined cookie sheet in an oven set to HI broil. Turn to blacken on all sides and then remove, wrapping tightly in the foil and setting aside to steam for 5 minutes. Peel and remove seeds and dice to ½" . Add to soup stock in stockpot.
---
Step 3
Dice sweet onion and mince the garlic and sauté until translucent with no oil, using small ladles of stock to prevent sticking. Add to stockpot.
---
Step 4
Roast the corn and tomatillo under the broiler until lightly charred. Cut off the corn kernels and add to stockpot with the tomatillo.
---
Step 5
Add cumin to stockpot.
---
Step 6
Rough chop the cilantro and add to stockpot.
---
Step 7
Simmer about ten minutes.
---
Step 8
Cut the grilled chicken into cubes and add to stockpot.
---
Step 9
Simmer for 5 minutes.
---
Step 10
Juice the limes into the soup and add salt & pepper to taste, stir well.
---
Step 11
Serve with red chili paste if you want to add heat.
Watch how easy it is to make 8 oz of soup stock for pennies per serving!
To make 2 quarts of organic chicken stock combine 8 tsp Cook's Delight® organic chicken stock base with 2 quarts of boiling water.
Each 1 pound container of Cook's Delight® soup base makes the equivalent of 22 – 32 oz boxes of liquid stock.
Why pay for water?