Butternut Squash and Pear Soup Recipe
Recipe
| | | | |
| --- | --- | --- | --- |
| Servings: | For: | This Recipe Is: | Featuring: |
| 10-12 | Lunch | Gluten Free, Vegetarian, Vegan | Cook's Delight® Simply Vegan Vegetable Soup Base VG-837 |
Ingredients
2 tsp olive oil
1 sweet onion - diced
1 butternut squash - peeled and sliced
2 large pears (peeled - cored and sliced)
1 Tbsp fresh rosemary
6 cups Cook's Delight® Vegan Vegetable Stock (to make vegetable stock - combine 4 tsp Cook's Delight® soup base with 6 cups boiling water)
2-3 tsp orange zest
pepper
Cook's Delight® Vegan Vegetable Soup Base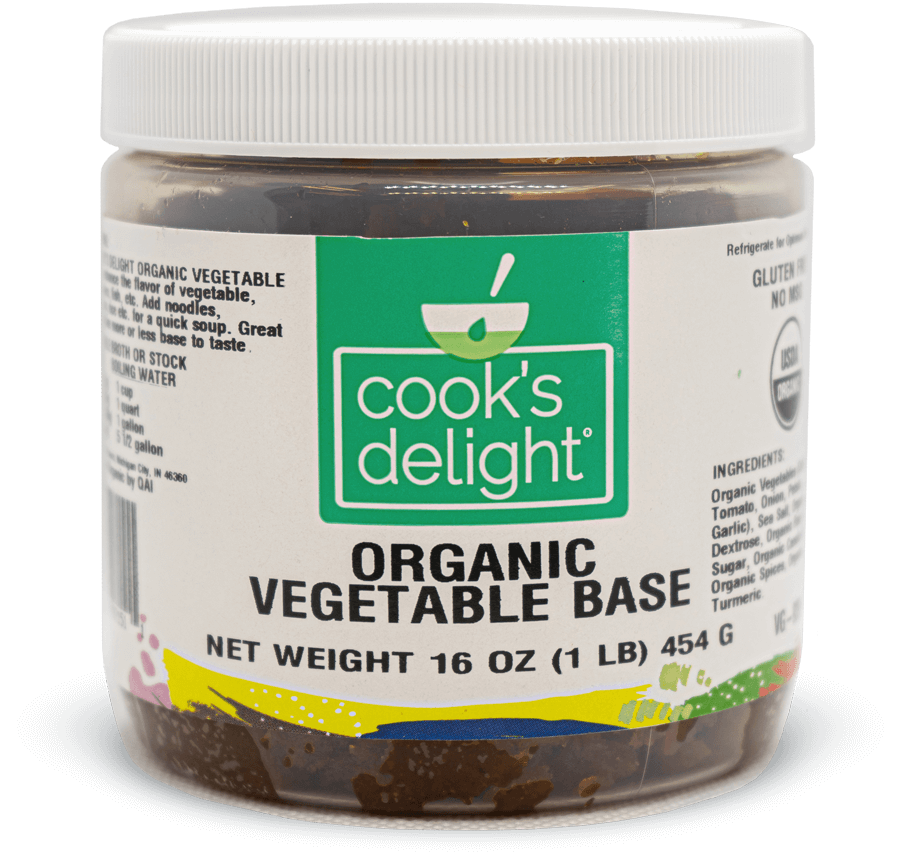 Cook's Delight® Organic Vegetable Soup Base
Step 1
Drizzle the squash with olive oil and season with salt and pepper. Roast at 375°F for 25 minutes, or until squash is tender.
---
Step 2
Heat 2 tsp olive oil in a stock pot and sauté the sweet onion until translucent, add the pear and sauté until onion turns golden.
---
Step 3
Add the remaining ingredients along with the squash and bring to boil. Reduce to a simmer for 25 minutes.
---
Step 4
Puree with an immersion blender or transfer in batches to a blender or food processor.
---
Step 5
Garnish with fresh rosemary and serve.
Watch how easy it is to make 8 oz of soup stock for pennies per serving!
To make 6 cups of vegetable stock combine 4 tsp Cook's Delight® vegetable stock base with 6 cups of boiling water.
Each 1 pound container of Cook's Delight® soup base makes the equivalent of 22 – 32 oz boxes of liquid stock.
Why pay for water?