Pasta e Fagioli Soup Recipe
Recipe
| | | | |
| --- | --- | --- | --- |
| Servings: | For: | This Recipe Is: | Featuring: |
| 6 | Dinner | Vegetarian, Gluten Free if appropriate pasta is used | Cook's Delight® Vegan Supreme Vegetable Soup Base VG-839 |
Ingredients
1 cup dried small white beans
1 tbsp extra-virgin olive oil
1 large onion - chopped
6 cloves garlic - minced
10 cups Cook's Delight® Vegetable Stock (mix 7 1/2 tsp Cook's Delight® Vegetable Soup Base with 10 cups of boiling water)
1/2 tsp dried rosemary - crushed
1 cup small pasta (such as orzo or small shells)
Salt and black pepper to taste
2 tbsp fresh parsley - chopped
1 cup freshly grated Parmesan cheese (optional)
Additional extra-virgin olive oil (optional)
Cook's Delight® Vegan Supreme Vegetable Soup Base VG-839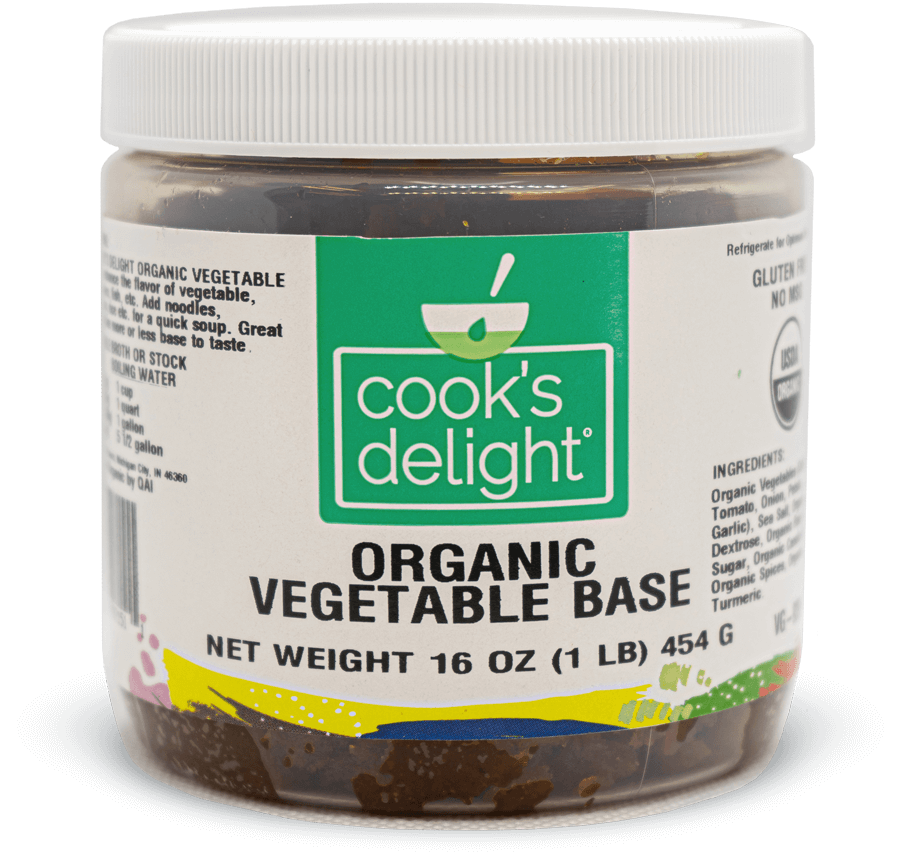 Cook's Delight® Organic Vegetable Soup Base
Step 1
Wash the beans. In a large pot, cover them with cold water. Soak for 8 hours. Drain into a colander.
---
Step 2
After the beans have been prepared overnight - Add 1 tablespoon of olive oil to pot over medium heat. Add the onion and garlic, and sauté until soft.
---
Step 3
Add the beans and Cook's Delight® Vegetable Soup Stock to pot. Cover and bring to a boil over high heat.
---
Step 4
Reduce heat to low, add the rosemary, and simmer 2 hours or until the beans are tender.
---
Step 5
Raise heat to high, add the pasta, and cook until al dente -- approximately 10 minutes.
---
Step 6
Season the soup to taste with salt and pepper, garnish with the chopped parsley.
---
Step 7
Serve accompanied by grated Parmesan cheese and extra-virgin olive oil (optional).
Watch how easy it is to make 8 oz of soup stock for pennies per serving!
To make 10 cups of organic vegetable stock combine 7 – 1/2 tsps Cook's Delight® Organic Vegetable stock base with 10 cups of boiling water.
Each 1 pound container of Cook's Delight® soup base makes the equivalent of 22 – 32 oz boxes of liquid stock.