What is the Difference Between Chicken Base and Chicken Stock or Chicken Broth?
Covering the Base-ics of Chicken Base!
Here's all you ever needed to know about chicken base, chicken stock, chicken broth and chicken bouillon.
What exactly is soup base?
Why use chicken base in place of chicken stock or chicken broth?
And, what is the definition of chicken bouillon?
We've covered all the bases about these important additions to your culinary creations. For purposes of discussion here, the focus is on chicken base, broth, stock and bouillon though other varieties, including beef, vegetable and seafood, are commonly used. Feel free to use our handy table of contents with links to all your basic and not so basic questions about chicken base.
What is Chicken Base?
What is the Difference Between Chicken Broth and Chicken Stock?
What is Chicken Bouillon?
Chicken Base + Water = Substitute for Chicken Stock and Chicken Broth
Why Choose Chicken Base? Consider the Comparisons:
How Can Chicken Base Be Used?
Recipe Ideas Using Chicken Base
Is Chicken Base Cost Effective?
How Healthy is Chicken Base?
Who Uses Chicken Base?
What is Chicken Base?
Simply put, a cooking base, according to Wikipedia, is a "concentrated flavoring compound used in place of stock for the creation of soups, sauces, and gravies."
Chicken base is highly concentrated, and is generally created by blending ingredients that provide the desired flavor notes, such as roasted chicken meat, vegetables including onions, celery and carrots, and various seasonings, spices and herbs.
Chicken base is thicker than chicken stock or chicken broth. Water can be added in varying amounts to create a liquid for stews, soups and sauces. Chicken base in also available in a powder or cube.  Paste bases can be used as a marinade or rub in recipes. With a longer cooking time than chicken stock or broth, flavors are melded more in a chicken base.
What is the Difference Between Chicken Broth and Chicken Stock?
According to the USDA Food Standards and Labeling, "No distinction has been made between 'broth' and 'stock.' These terms may be used interchangeably as the resulting liquid from simmering meat and/or bones in water with seasonings."
Chicken stock or broth is most distinguishable by its liquid form. Compared to chicken base, its thinner in consistency and paler in color. Created by the same ingredients as in a chicken base, a chicken stock or broth requires a shorter cooking time. Defined by Wikipedia, "a soup stock, sometimes called bone broth, is a savory cooking liquid that forms the basis of many dishes, particularly soups, stews and sauces."
What is Chicken Bouillon?
Chicken bouillon is a condensed or dehydrated chicken broth or stock. It is typically found in cubes but is also available in other forms such as a paste, granular, powder or liquid.
It's described by the FDA as "containing large amounts of salt." The FDA states that "chicken bouillon cube or beef bouillon cube are appropriate names if the product is made from evaporated bouillon with sufficient chicken or beef extractives present to give definite characteristics, especially flavor, of the designated source. When dissolved in water according to directions, the resulting product is bouillon."
As explained by Wikipedia, a bouillon cube is "dehydrated broth or stock formed into a small cube about 13 mm (1⁄2 in) wide. It is typically made from dehydrated vegetables, meat stock, a small portion of fat, MSG, salt, and seasonings, shaped into a small cube."
Chicken Base + Water = Substitute for Chicken Stock and Chicken Broth
It's so simple to turn chicken soup base into a substitute for chicken stock or broth – Just add water! Simply mix ½ teaspoon of chicken base with 8 ounces of water. One pound of chicken base converts to 5 ½ gallons of soup stock or broth – that's twenty-two 32-oz. boxes!
Why Choose Chicken Base? Consider the Comparisons:
While one pound of chicken base provides 90 servings, one pound of liquid stock or broth serves two.
The shelf life of chicken base is up to two years compared to 4-14 days for liquid stock or broth.
Spend pennies per serving for chicken base compared to chicken stock or broth.
Unlike chicken broth or stock, there's no need for refrigerated or frozen shipping or refrigerated or frozen storage.
Chicken base is shelf stable – no refrigeration is required while chicken stock or broth must be refrigerated or frozen.
Chicken base saves on warehouse, cooler and freezer space. A 50-lb pail of soup base takes up less space than the equivalent 283 gallons of soup broth or stock.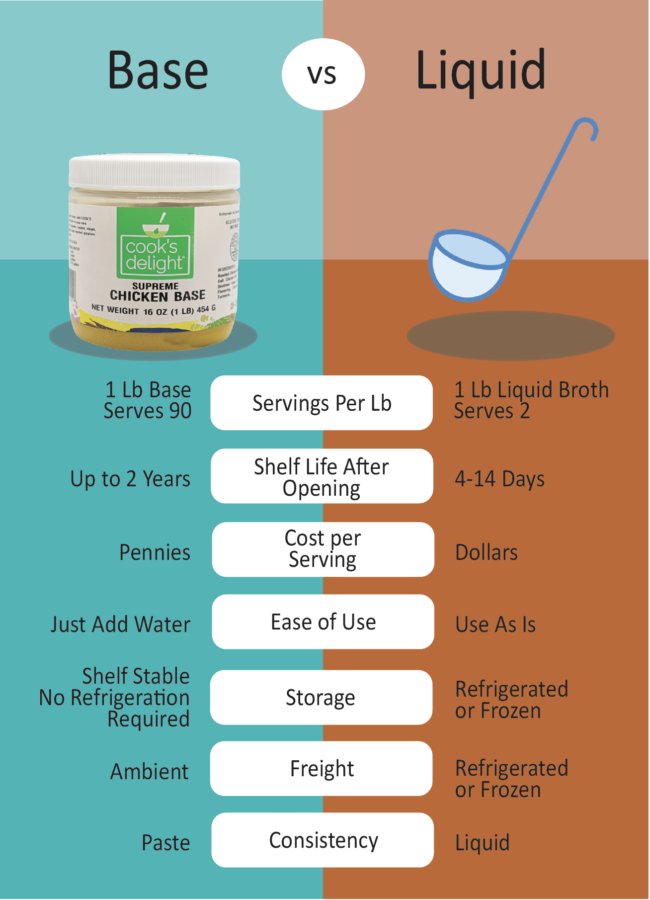 How Can Chicken Base Be Used?
In addition to making soups, stews and sauces, there's more out-of-the-box (or jar, in this case) ways to incorporate the savory and rich flavor of chicken base into your recipes. Use it to:
Rub on fresh meat or as a marinade
Season cooking water
Create signature breading
Sauté your vegetables with
Mix it in your favorite mashed potatoes recipe
Season favorite menu items
Here's a few more recipe ideas using chicken base:
Is Chicken Base Cost Effective?
How Healthy Is Chicken Base?
That all depends on its manufacturer. Look for clean label product lines, high quality and transparency. Is the company focused on blending simple ingredients into versatile bases that produce great taste in your menu and product creations? Look for bases made with easily recognizable ingredients while excluding others that are not considered clean.
Check out the base manufacturer's "No No" List. This is a pledge that specific ingredients will not be found in food products. It's company specific rather than a universal list. Some companies put the bare minimum on their "No No" list. Others go above and beyond. Here's a few common items found on "No No" lists:
Artificial Ingredients
Artificial Colors
Artificial Flavors
Artificial Sweeteners
Artificial Preservatives
Highly Processed Ingredients
Cook's Delight® chicken soup base provides our chefs versatility "
Cook's Delight® chicken base provides our chefs the versatility to use it in a soup, as a rub, or as a background flavor in our signature selections. We can use as much or as little as we want to achieve the desired flavor profile."
Art Georgion
Owner / Pesto's Italian Restaurant
Who Uses Chicken Base?
Soup base works in all recipes from home kitchens, to foodservice operations to industrial formulas!  Soup bases and flavor concentrates give your recipes a consistent, predictable flavor profile. Take the guesswork out of quality management and save labor, too. Convenient pack sizes and shelf stable products allow users to source the amount needed without worrying about shortage or storage.
Health trends change and so do our products.  With the addition of our new line of Zero Sugar Bases, Cook's Delight® provides an option for professional chefs wanting to control the sugar in their culinary creations. Available in chicken, beef and vegetable (both organic and conventional) varieties, the bases are gluten free with no MSG, no Big 8 allergens and no trans fats. These clean label products conform to the guidelines of many popular zero sugar diets as well as KETO, vegan and low carb.
Submit a request for your sample.  These bases are a perfect addition to your distribution product line, especially if healthcare providers are a key demographic in your customer base.
Home users can purchase individual quantities of our most popular soup bases through Amazon.