Pork Molé Poutine Recipe
Recipe
Cuisine
Mexican, Canadian
| | | | |
| --- | --- | --- | --- |
| Servings: | Good For: | This Recipe Is: | Featuring: |
| 4 | Appetizer | Ethnic | Cook's Delight® Chicken Base made with Organic Meat and Broth CH-1004 |
Ingredients
2 cups Cook's Delight® Organic Chicken Stock (2 cups boiling water combined with 2 tsp Cook's Delight® Chicken Base made with Organic Meat and Broth)
2 dried guajillo chiles - stemmed and seeded
2 dried ancho chiles - stemmed and seeded
2 dried mulato chiles - stemmed and seeded
2 corn tortillas - torn in pieces
1/4 cup raisins
1/2 cup pepitos (pumpkin seeds)
2 tbsp lard
1 tablet Abuelitos hot chocolate
2 large tomatoes - diced
1 sweet onion - diced
4 garlic cloves - diced
2 tsp cumin
5 whole cloves
2 tbsp sugar
pulled pork (or grilled pork or chicken)
cheese curds
roasted corn
sliced Serrano pepper and cilantro (garnish)
French fries
Cook's Delight® Chicken Base made with Organic Meat and Broth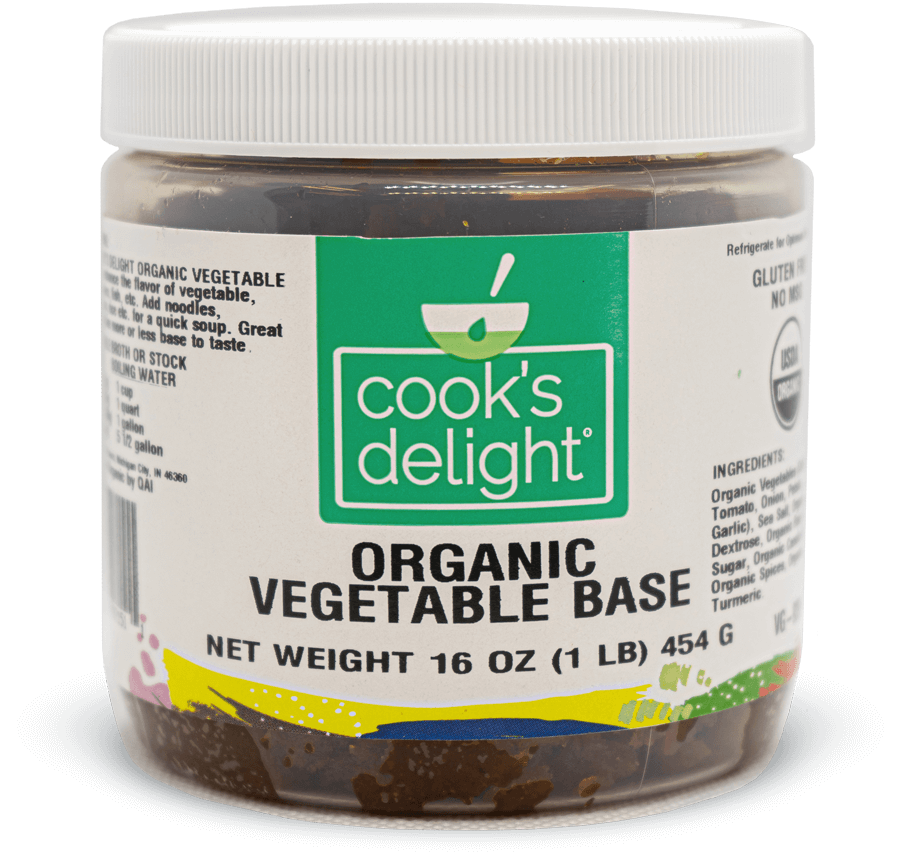 Cook's Delight® Organic Vegetable Soup Base
Step 1
Toast chiles in a dry pan until aromatic.
---
Step 2
Heat Cook's Delight® chicken stock in a saucepan then add to chiles in a blender.
---
Step 3
In a large sauce pan, heat the lard and sauté the tortilla, pepitos and raisins until the raisins are plump. Add to the blender.
---
Step 4
Sauté onion and garlic for 3-5 minutes. Add tomatoes, cumin and cloves. Cook until tomatoes being to blacken then add to the blender.
---
Step 5
Blend well and return to saucepan and simmer over low heat.
---
Step 6
Add the chocolate, sugar and salt to taste. Simmer until well combined.
---
Step 7
Serve over fries with pulled pork, grilled pork or chicken. Top with cheese curds, roasted corn, sliced Serrano pepper and cilantro.
Watch how easy it is to make 8 oz of soup stock for pennies per serving!
To make 2 cups of organic chicken stock combine 2 tsp Cook's Delight® organic chicken stock base with cups of boiling water.
Each 1 pound container of Cook's Delight® soup base makes the equivalent of 22 – 32 oz boxes of liquid stock.
Why pay for water?