Thai Quinoa Salad Recipe
Recipe
| | | | |
| --- | --- | --- | --- |
| Servings: | For: | This Recipe Is: | Featuring: |
| 8 | Lunch | Made with Chicken or without for Vegetarian, Plant based | Cook's Delight® Mushroom Stock Concentrate  and Organic Vegetable Base |
Ingredients
1 cup uncooked quinoa - rinsed and drained
1-1/2 cups water
1/2 tsp Cook's Delight® Organic Vegetable Base
2 cups purple cabbage - thinly sliced
2 cups carrots - grated
3-4 green onions - sliced (use whole green onion)
1 cup fresh basil leaves - chopped
1 cup fresh cilantro - chopped
1 seeded jalapeno pepper - minced
2 cooked chicken breasts - shredded
1/2 cup roasted peanuts - chopped
1/4 cup olive oil
1/3 cup fresh lime juice
2 Tbsp soy sauce
1 tsp Worcestershire sauce
1 tsp Cook's Delight® Mushroom Stock
2 Tbsp honey
Cook's Delight® Simply Mushroom Flavor Concentrate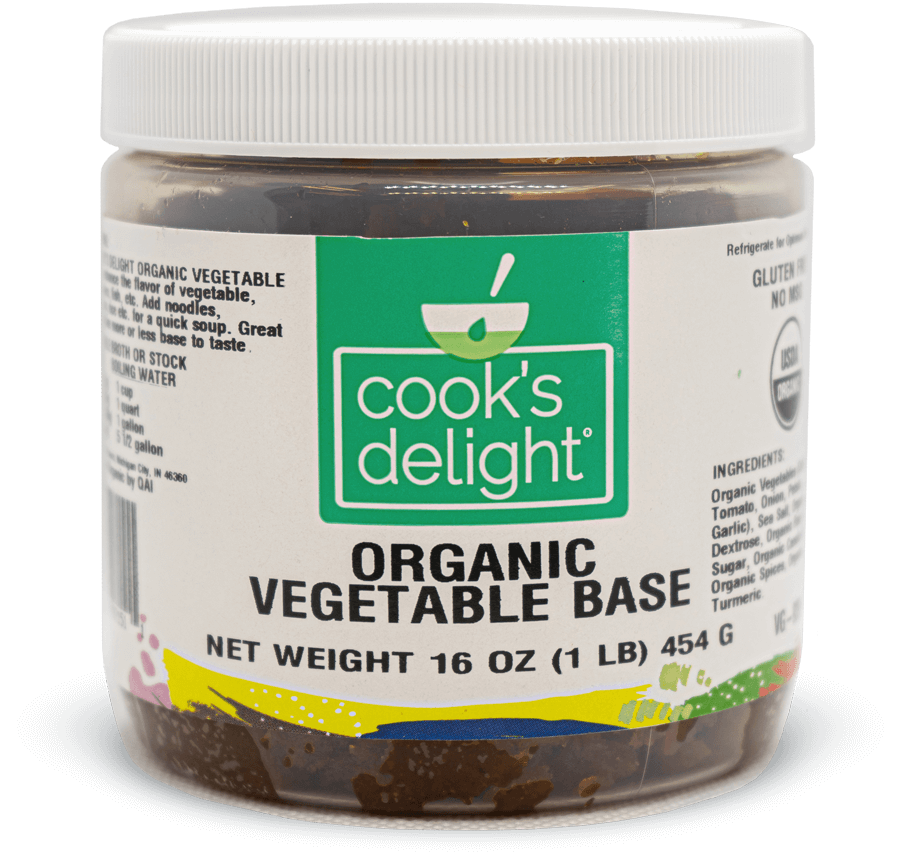 Cook's Delight® Organic Vegetable Soup Base
Step 1
If making with chicken, cook chicken breasts and shred with fork. Set aside and cool.
---
Step 2
In a medium sauce pan, stir Cook's Delight® Vegetable Base into water. Add quinoa and bring to boil over high heat.
---
Step 3
Stir. Reduce heat to low and cover. Simmer until the quinoa is tender, and the water has been absorbed, about 15 minutes.
---
Step 4
Fluff with a fork and transfer to a bowl large enough to hold all remaining ingredients and cool.
---
Step 5
While quinoa is cooking, combine olive oil, lime juice, soy sauce, Worcestershire sauce, Cook's Delight® Mushroom Stock Concentrate and honey in a bowl. Stir and set dressing aside.
---
Step 6
After the quinoa is cool, add the cabbage, carrots, green onions, basil, cilantro, jalapeno pepper and shredded chicken and toss to combine.
---
Step 7
Add the dressing to the bowl of ingredients and toss. Taste and season additionally, if desired.
---
Step 8
Chill salad and top with peanuts before serving.