Vegetable Cheese Soup Recipe
Recipe
| | | | |
| --- | --- | --- | --- |
| Servings: | For: | This Recipe Is: | Featuring: |
| 6 | Lunch | Vegetarian | Cook's Delight® Organic Vegetable Soup Base VG-939 |
Ingredients
1 large potato - peeled and diced
1 large carrot - peeled and diced
1 stalk celery - chopped
1 cup water
1 medium white onion - chopped
4 tbsps butter
2 tbsps flour
2 cups Cook's Delight® Vegetable Stock (mix 1 - 3/4 tsp of Cook's Delight® Organic Vegetable Soup Base Added with 2 cups boiling water)
1 - 1/2 cups cream
2 cups sharp cheddar cheese - grated
minced fresh parsley
paprika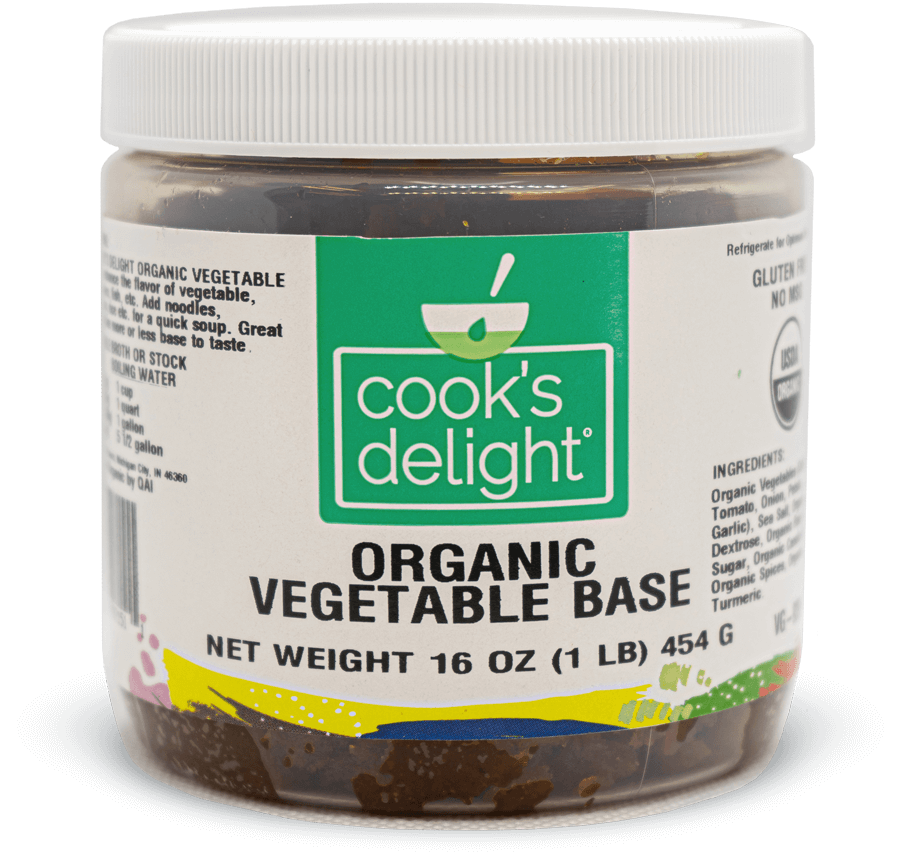 Cook's Delight® Organic Vegetable Soup Base
Cook's Delight® Vegan Supreme Chicken Style Soup Base
Step 1
Place the first 3 vegetables and water in a small covered saucepan and heat to boiling.
---
Step 2
Reduce heat to medium and continue cooking 10 to 12 minutes. Set vegetables and their liquid aside.
---
Step 3
In a medium soup pot, saute onion in butter 5 minutes. Stir in flour. Gradually whisk in Cook's Delight® Vegetable Stock and cream. Stirring continuously, cook until thickened, but not boiling, over low heat.
---
Step 4
Stir in cheese until melted. Add reserved vegetables and their liquid. Season with parsley and paprika. Reheat soup until hot.
---
Step 5
Best when served within the hour.
Video Directions for Making Vegetable Stock
Watch how easy it is to make 8 oz of soup stock for pennies per serving!
To make 2 cups of organic vegetable stock combine 1 – 3/4 tsp Cook's Delight® Organic Vegetable stock base with 2 cups of boiling water.
Each 1 pound container of Cook's Delight® soup base makes the equivalent of 22 – 32 oz boxes of liquid stock.