Vegetarian Tortellini Soup with Spinach and Tomatoes Recipe
Recipe
| | | | |
| --- | --- | --- | --- |
| Servings: | For: | This Recipe Is: | Featuring: |
| 8 | Lunch | Vegetarian, Gluten-free if appropriate pasta is used | Cook's Delight® Vegan Supreme Vegetable Soup Base VG-839 |
Ingredients
1 – 16-oz bag of frozen cheese tortellini
8 cups Cook's Delight® Vegetable Stock (mix 2 - 1/2 tbsps Cook's Delight® Vegetable Soup Base with 8 cups boiling water)
2 cloves of garlic - minced
1 tbsp butter
1 box of frozen spinach
1 can of stewed tomatoes
1 tbsp dried basil
1/2 cup grated Parmesan cheese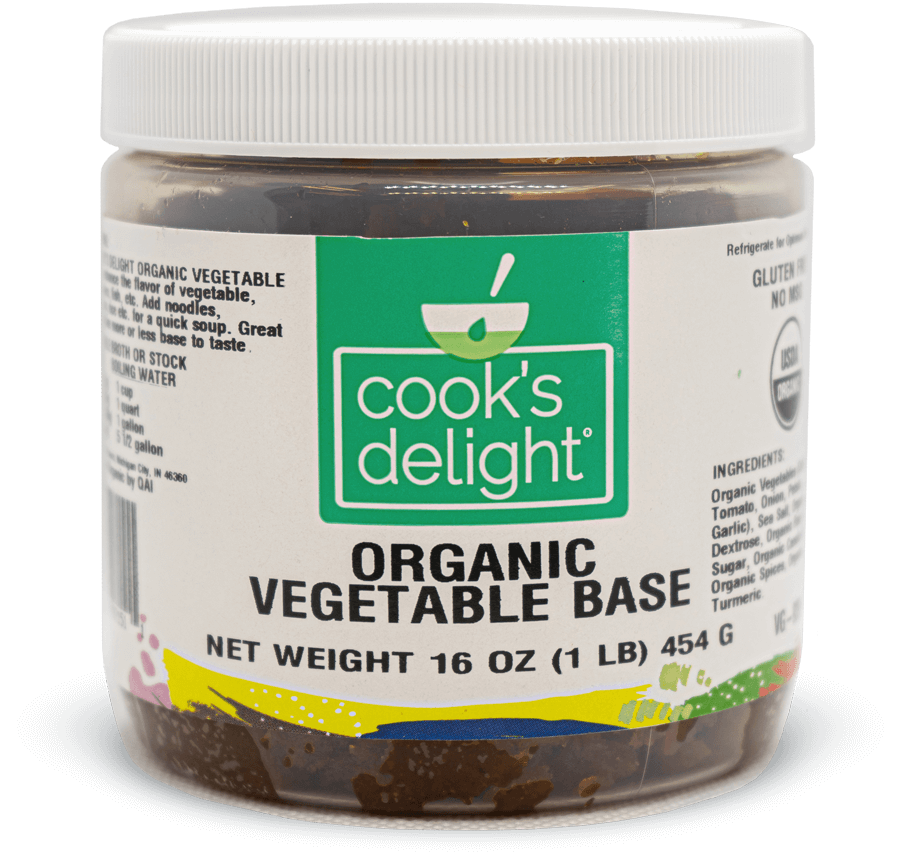 Cook's Delight® Organic Vegetable Soup Base
Cook's Delight® Vegan Vegetable Soup Base
Step 1
In a stockpot, saute butter and garlic until just golden brown. Add Cook's Delight® Vegetable Stock and basil. Bring to a boil.
---
Step 2
Add tortellini to boiling stock and cook 4 to 5 minutes.
---
Step 3
Add frozen spinach and stewed tomatoes.
---
Step 4
Turn off stove. Stir in Parmesan cheese and let soup sit for about 10 minutes or until the spinach is hot.
---
Step 5
Serve immediately. Sprinkle grated Parmesan cheese on top, if desired. Can be frozen.
Video Directions for Making Vegetable Stock
Watch how easy it is to make 8 oz of soup stock for pennies per serving!
To make 8 cups of organic vegetable stock combine 2 – 1/2 tbsp Cook's Delight® Organic Vegetable stock base with 8 cups of boiling water.
Each 1 pound container of Cook's Delight® soup base makes the equivalent of 22 – 32 oz boxes of liquid stock.